La Paz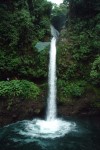 The La Paz Waterfalls Gardens is an amazing place. As the bus approached the the entrance we were able to see the falls at the bottom which is actually just one of many falls carrying water down from the mountain. We started with the bird exhibit where we saw parrots, macaws, toucans, and a variety of other birds native to Costa Rica.
From there we went through the butterfly garden where we saw many different kinds of butterflies. My favorite was a bright blue one called a blue morpho (Morpho peleides limpida) which is bright blue when its wings are open, but is dark brown with spots when its wings are closed.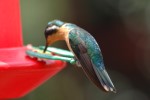 After the butterflies we walked to an open area with numerous bird feeders where hummingbirds kept swooping in. They move so fast that despite taking many photos with my camera set for high-speed action, only a few came out as anything other than a blur.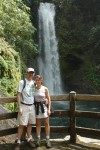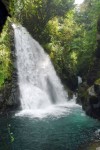 Once we finished looking at the hummingbirds the group had lunch after which we toured the waterfalls.
Before returning to the bus I had some time to take some more photos of the area and use the restroom. The restrooms at the garden were very interesting and kept with the theme of the gardens. Instead of a normal sink they had a waterfall that was turned on by twisting a knob that looked like a frog clinging to a tree trunk.