Mangrove / Damas Island Boat Tour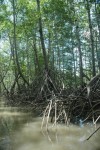 Today we were allowed to sleep in a little later, after which we took two small busses to some boats for a tour of the mangrove forests. Our tour guide pointed out numerous interesting plants and animals including an unusual flower that had four large pedals that opened up with an inside that looked like a toucan. Later as we were looking at some bats clinging inconspicuously to the bottom of a tree branch, our boat rubbed against one of the mangroves and a tiger crab fell into the boat. As we apprached the edge of a large river we noticed a troup of white face capuchin monkeys that came near the boat looking for handouts.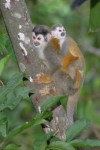 Before dinner we went to Anaconda for drinks where every night squirel monkeys can be seen as they return home from their day of foraging. The restaurant/bar has a large sign out front that reads "still more monkeys than people." The monkey troup consists of all different ages including little babies clinging to their mother's back. After our "happy hour" we went accross the street to Restaurant La Cantina BBQ where we had dinner.