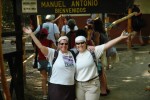 Today was our first full day in Manuel Antonio. We all woke up very early to tour Manuel Antonio National Park. As we approached the entrance to the park we walked over what appeared to be a narrow stream. However as we left the park several hours later, what was once a narrow stream had become almost a small lake.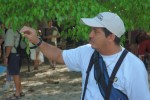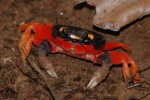 Our guide for the park tour pointed out numerous species of plants, some of which are poisonous. As we walked further into the forest he pointed out various animals such as three toed sloths, howler monkeys, iguanas, and a kingfisher perched high on a tree. As we hiked up a hill I noticed many small holes dug into the sides of the path. Peering into a hole it turned out that each hole contained a rainbow crab. Moving to the head of our group I was able to see them outside, however one by one they would all dart back into their hole as we approached.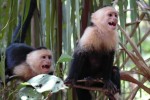 When we reached the top of the hill we came upon a troop of white face capuchin monkeys who at first seemed relatively calm but as the group approached became increasingly agitated and started bearing their teeth. However, they provided plenty of fodder for picture taking and everyone in our group was able to snap plenty of photos to share with friends back home.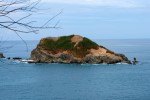 At the top of the hill was a nice view of the Pacific Ocean and a small island. After enjoying the view and taking a short break we proceeded down the hill to a beautiful beach where we went swimming and enjoyed some lunch.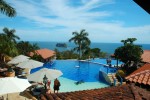 After returning back to the Hotel Parador we had the rest of the day to enjoy the hotels three fantastic pools.
For dinner everyone was on their own. Those who were interested in leaving the hotel broke into smaller groups and took taxis into the town of Quepos to various restaurants. The group I was with decided to try out The Great Escape seafood restaurant, which turned out to be quite good.