Today was a travel day as we left Manuel Antonio and the wonderful Hotel Parador on our way to rain forests of Monteverde. Due to the poor quality of the roads leading up to the hotel, our luggage was loaded on to the bus while the group was at breakfast and we took several vans to transport the group from the hotel to bus which was waiting a short distance away.

[Did anything happen between Manual Antonio and Monteverde?]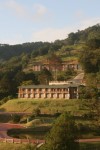 After arriving at the hotel El Establo in Monteverde and having a welcome drink, many of the group chose to walk up the steep road to the building where our rooms were. Once everyone was settled about half the group went for a hike up the hill to stretch our legs a bit and watch the sunset before dinner.