Today we rented a car to explore more of Crete. Our first stop was the Knossos Minoan Palace in Heraklion. Driving in Crete is quite an experience. All the cars in Crete are small ultra compact cars with less than 2 liter engines. While the roads are reasonably marked, few drivers actually follow them. On a two lane highway it's common for one car to drive on the shoulder while another car passes half in a lane and half in the other lane. They also drive much faster than the posted speed limit.
The car we rented had a built in navigation system, but the previous driver had switched the language to Russian and it took us a bit to finally figure out how to set it to English. After heading into town to pick up some water (2 2-liter bottles for 0,70€) we got on the main highway and reached Knossos in about 30 minutes. We were waved into a lot that said free parking and parked underneath some trees. It turned out to be a private lot not related to the Palace, but it was in a shaded and safe area with the only catch being that we considered dining in their open-air restaurant. Nice gimmick.
After walking a short distance to the entrance of the palace and paying an admission fee, we were approached by someone who asked us what language we speak and asked if we wanted to go on a tour for only 10€ a person. The tour had just left, but she could quickly take us to the group. We figured it was worth it to have a guided tour and ended up touring with another couple who was from New York. With such a small group we were able to ask a lot of questions and get a more personalized experience.
The temple was very interesting. There were many areas that were original with restorations above. The temple had been rebuilt several times throughout history. It was first constructed in 2000 b.c. and rebuilt in 1700 b.c.. It was quite hot, so luckily the tour didn't go for too long.
After heading back toward the car we decided to try out the restaurant and split a small sandwich and a drink. We then headed toward downtown Heraklion to try and see the Bembo Fountain , but that ended up being an experience in itself. The streets in the heart of the city are extremely narrow and very congested. We ended up getting a little lost in the winding and twisting streets, some so narrow I didn't think the car would fit through, but eventually we ended up back in the main square only to find there was no place we could possibly park the car to get out and explore. Instead we decided to go to our next destination, The Crete Aquarium.
Since the CRET Aquarium wasn't in the navigation system built into the car, I had to enter in the GPS coordinates I had stored on my phone. Unfortunately the navigation system didn't really know the best route and tried to take us on to unpaved roads. Since I had a general idea of were the aquarium was I decided to ignore the navigation system and stay on the main roads, letting it reroute every time it suggested a turn onto a poor street. The aquarium is in an area that was formerly an American military base. The area was very dilapidated with many buildings crumbling and falling apart. The aquarium itself was a modern looking building, but even so, parts of the outside seemed to be less than what it should be. Once inside the aquarium we were even more disappointed by what we saw. While the aquarium had been well designed, it was clear it lacked the necessary funds to keep it in proper shape. All of the tanks were very dirty with algae covering everything and the bottom covered in fish poop and particles floating in the water. Many of the fish were in poor shape as well with growths and cataracts. We saw a ray with a large growth on its nose that was struggling to swim and in another tank there was a fish missing it's gill covering and part of a fin that looked like others had been nibbling on it. The sharks in the same tank, while menacing looking, were clearly in poor health with many lesions on their skin.
After posting a review of the aquarium on TripAdvisor, I received a note from a local fisherman in Crete who told me the problem with the Aquarium is not a lack of funds (they were given over 30 million euro from the EU), but poor financial management. He also informed me that a group of professional divers from the area of Amoudara Heraklion had offered to clean the tanks for free, but the aquarium turned them down.
After leaving the aquarium we decided to take a scenic drive to the Lassithi Plateau. I enjoyed the drive, while Alexandra was a little more anxious as we drove up a narrow roadway up the mountain with hairpin turns. Having done similar drives in Colorado, Maui, Arizona, and more recently on the way to Yosemite National Park, it didn't seem as treacherous to me. When we finally reached the top there were several windmills and The Museum of Homo Sapiens. After getting a few photos we decided to check out the museum. The museum is more of a tourist trap than anything else. In fact once you make it into the museum and to the ticket desk, the owner will make it hard to leave without you paying him some money and visiting the museum. His numerous signs and promotions of the museum are actually quite humorous. After leaving the museum we continued up the road thinking there was more to see. After driving through two small towns we decided to head back to the hotel which had us turn around and head back the way we came. While doing some research on the Lassithi Plateau for this travelogue I found out that had we turned right rather than left we would have headed toward some interesting sites, including Dikteon Cave, where according to legend Zeus was born. Unfortunately without a detailed map there would have been no way of us finding it.
Upon returning to the hotel we promptly donned our swim suits and headed to the adult pool just outside our room. While this pool is a bit smaller than the main pool, it is just as exquisite, although a bit quieter as it doesn't allow children.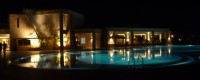 After dinner, since we still had use of the car, we decided to drive in to Hersonissos to watch the sun set and have a drink at one of the many bars. After finding a place to park and walking around for a bit we found a quiet bar with a good view of the harbor. Many of the bars offer free Wi-Fi, so we were able to use the opportunity to check in with family back home and download some email. Since it was still early, the bar was pretty dead, so we spent some time talking with the waiter, who when we told him which islands we were visiting said, "Ugh, those are all the tourist places. You need to go where the locals go," and he gave us a list of other islands we should visit.