This morning we decided to take a bus trip to Oia on the north end of Santorini. Santorini has a reliable bus system with busses that leave about once an hour to destinations all over the island for €1,60. Oia is a lot like Fira. It has white-washed buildings all along the edge with many different shops. We found a number of nice art galleries and ended up purchasing some inexpensive art for gifts and for ourselves. After tiring of Oia we took the bus back to Fira, dropped off our purchases, and headed back out for lunch.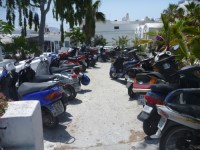 While wondering down the main street we found a gyro shop named Tabasco that looked interesting and decided to stop there for lunch. We each ordered a pita; Lex a lamb and a vegetarian for myself. They were amazing. While we were eating another American tourist happened by and we waved her in. She used to live in Chicago, but has been studying in Milan as part of a program for USC and decided to take a little break in Santorini to study for finals. Must be nice.
Following lunch we decided to take the cable cars down to the old port and explore a bit. There isn't a whole lot at the old port, but it is still quite active with tenders from cruise ships docking here as well as many of the tour boats. We also were able to get a closer look at the mega yacht, Diamonds are Forever, that we had seen moored while at dinner the night before.
After returning via cable car from the old port and wandering through Fira's many shops we headed back to the hotel for our favorite activity of the day, swimming. The water felt great, but they certainly don't maintain the pool as well as they did at the Grand Hotel in Crete. The same debris that I had noticed at the bottom of the pool the day before was still there. However the water was still very clean, cool, and refreshing, so it's not really worth complaining. While in the pool we swam over to the whirlpool where the "four crazy ladies from Australia" were chatting a bit and they started telling us about their amazing dining experience the night before and that we absolutely had to try out this place called Ellis.
On the advice of the Aussies, we followed their directions and ended up at Ellis where we chose a seat up front to get a great view of the sunset. While perusing the menu, our waiter came by and Lex burst out the story of how we were referred by the "crazy Australian ladies from last night" and the waiter got a huge smile on his face and even brought over one of his fellow waiters who exclaimed, "Wow, what a night." Needless to say, the restaurant lived up to our expectations. The food was excellent, we even ordered two glasses of wine and an appetizer of fava beans. After we finished our main course and a beautiful sunset the waiter brought over two clean plates and said "this is for a surprise." The surprise was a complimentary piece of their famous (or should be famous) Ellis Cake which also lived up to the hype we had seen on Trip Advisor. When the final bill came, it was about half what we had paid the previous night. Just remember, if you're in Santorini, go to Ellis for dinner. It's just to the left of the Atlantis Hotel and definitely worth the trip.