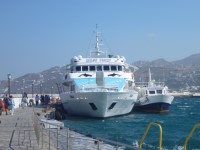 Today was our excursion to the island of Delos. We were picked up early from the hotel and taken to the harbor in Mykonos Town where we board the Orca for the short trip to the nearby island of Delos. The wind was still very strong. Apparently Mykonos is know as the island of the winds and it certainly lives up to that. While the trip was only about 45 minutes, we went through some large waves that crashed over the boat and it did quite a bit of rocking. Lex and I were both find, but others were not. Fortunately the crew quickly spotted those who were feeling a bit queasy and took them to the back of the boat where they could get fresh air and feel more comfortable.
Upon arrived at Delos we met our tour guide who took us around and described the various archeological artifacts throughout the island. It was very interesting to learn how advanced the people of Greece were in 5th and 6th century BC. Our tour guide pointed out an immense marble base of a statue that weighs approximately 32 tons and was brought over as a single piece of marble. The base held the towering Colossus of the Naxians, a statue of Apollo that stood 9 meters high.
After leaving Delos, The Orca dropped us off at the dock by Mykonos Town. We wondered the town some more looking for souvenirs as well as a place for lunch. This time we ended up eating at a pita restaurant across the street from where we had lunch yesterday, and it was just as good.
After wandering around a bit we caught a cab back to the hotel and spent some time in one of the smaller pools that was a little better protected from the wind. For dinner we walked over to the Ornos Beach, this time trying a different restaurant that looked interesting. Alexandra had Salmon and I had ravioli with tomato sauce, both were quite good.