This was our first full day in Crete. We decided that with staying at such a nice hotel, rather than visit Spinalonga Island as we had originally planned, we use the morning to explore Hersonissos and spend the afternoon at the pool. After breakfast we went to the bus stop across the street from the hotel. According to the schedule the bus was supposed to arrive at 8:30 with the next bus at 9:00. We stood there and waited as many tour busses waited to pick up tourists from the hotels and many other tour busses went by. We stood on the corner from 8:30 to about 9:15 waiting for what we thought would look like a CTA bus. It turns out the busses are big blue tour busses with a sign that says KTEΛ in the window, so I'm guessing we missed the first bus thinking it was just another tour bus. After boarding the bus a conductor passed through the bus collecting fares, ours was 1,60€ per person.
We ended up missing the stop I thought we wanted, but the next stop turned out to be only a short walk away. Our first stop was a grocery store to pick up some water. This ended up being a real bargain. We bought two 750ml bottles for 0,19€ each and later returned for a 1.5L bottle for 0,25€; much cheaper than what we could get by the hotel.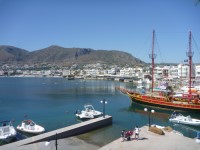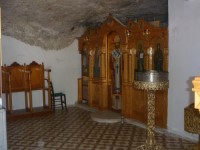 After exploring the main street for a while I found a road that took us near the waterfront. This area is beautiful with a good size beach and open-air bars and restaurants lining the waterfront and the main bars and restaurants as well as shops on the other side of the street. We walked all the way down to the harbor where there were a number of tour boats offering short excursions and day trips. We continued on to the very end where there was a small church built into the rock making up the end of this natural harbor. It was only around 10am, but already the heat of the day was starting to build. We then walked back to the main part of town to continue exploring and look for a place for lunch.
By time we got back to the main street it was after 10am and the Hersonissos aquarium which we had wanted to visit was open. I had read about Aqua World on Trip Advisor and it had many very good reviews. The reviews didn't lie. Aqua World was started by an Australian couple who had moved to Crete and found a need to rehabilitate injured marine life. While their aquarium is not very big, it more than makes up for it in quality. The wife was working the front desk and was surprised that a couple from Chicago had heard about their little aquarium. She directed us to the very back where her husband was tending to the reptiles. They had four iguanas, lots of turtles, and a number of snakes ranging in size from only a few feet long to two giant Burmese pythons. He was changing the water on a tub of baby native turtles, each about an inch and a half long that were to be returned to the wild once they were large enough. He let Lex pet one of the smaller male iguanas named Little Squirt who closed his eyes and arched his back in what looked like extreme pleasure as soon as Lex started rubbing his sides. He also let us handle some of the smaller snakes such as a Californian Kingsnake. After playing with the reptiles we went back to the main part of the aquarium where there was a very active octopus and a number of tanks with a variety of species of fish.
After leaving the aquarium we continued down the main street looking for a place for lunch. Unfortunately something I ate for breakfast wasn't agreeing with me.
After finishing lunch we walked to the East end of town and decided to walk back to the hotel from there. This was not a very good idea. While it was only one bus stop away, it was still a good distance at the peak time of day. By time we did get back to the hotel we were both hot and tired and really ready for the pool.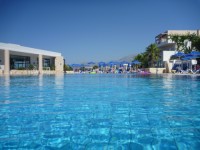 Since we arrived late in the day yesterday, this was our first chance to use the pool. We knew it looked good, but it was even better than we expected. The temperature was perfect and the hotel kept their pools immaculately clean. You couldn't even find a single leaf at the bottom of the pool. As far as pools go, this was a ten out of ten.