This was our only full day in Athens and the last day of our trip before flying home very early the next morning. Alexandra was up and bouncing around by 6am in anticipation of everything we would see. Our first stop was the Acropolis as soon as it opened. As our hotel wasn't far, we walked past the Temple of Zeus and up the path past the Museum of the Acropolis to the entrance of the Acropolis. As we started walked a stray dog started walking with us and led us all the way to the top.
As the Parthenon is in a constant state of restoration, there was a big crane on the west end and everywhere you looked there were pieces of stone used for the restoration.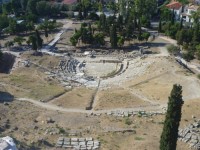 After leaving the acropolis's we headed down to the Theatre of Dionysus.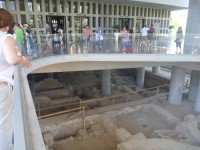 Our next stop was The Acropolis Museum. I was very impressed with the architecture of the building. It is built above an ancient archeological site and has glass floors that allow you to view the site below. The museum itself if very open and modern looking, but filled with an immense amount of artifacts from the acropolis. On the top floor they have all of the original pieces from the top of the Parthenon that they poses, displayed in the position they would be found. The way the pieces were displayed you could see both the front and the back of each piece. Some of the pieces which where in such poor shape that you couldn't tell what they were they had restorations around it.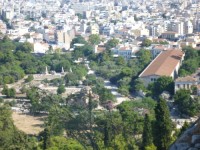 Following the museum we walked back up toward the top of the Acropolis to head toward the Ancient Agora and briefly walked through the Stoa of Attalos before wondering around downtown Athens looking for a place for lunch as we were both getting tired and hungry. Following lunch near the Monastiraki Square we decided to explore the Tower of the Winds, since it wasn't far from where we were.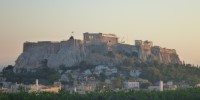 For dinner Alexandra had made reservations at the Roof Garden Restaurant of the Hotel Grande Bretagne where we had a view of the the Parthenon lit up by the setting sun.