Mount Etna
This was my favorite day of the cruise. After departing the ship we took a bus ride for a little over an hour past beautiful scenery to the village of Linguaglossa and the foot of Mt. Etna. Mt. Etna is the most active of Italy's three active volcanoes. It's last eruption was in 2001 and there was evidence of it all around. (Update: Mt. Etna had several eruptions in September, four months after this trip) As we drove through the town just below the summit you could see numerous buildings with large cracks and some buildings that still had walls with large sections missing. As we drove closer to the summit a vast flow of black lava was visible.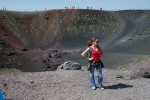 The summit of Mt. Etna was very rocky made up of small lava fragments. It made hiking around the crater tricky since the rocks would shift and slide under your feet. Flavia, our tour guide, told us a little about the different types of lava and how the lava from Mt. Etna (or as Flavia pronounced it, Mounta Etna) is the same type as in Hawaii, which explained why it looked so similar to lava flows I had seen when visiting the Hawaiian Islands.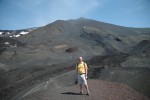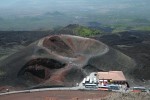 After hiking around a lower crater near where the bus had dropped us off, I decided to hike to the top of a large nearby crater. The path to the summit was rather difficult with it being a very steep incline of very loose lava rocks that shifted with every step. I had to stop frequently to remove small rocks that had lodged between my feet and my sandals. The view from the top was amazing and I was able to get a great shot of the crater I had just walked around. I was also able to take a great 360º photo of the view from the top as well.
After admiring the views from the top, the group of us that had hiked to the summit came back down and had a bite to eat for lunch. Everyone had pizza. One of the interesting styles of pizza they were serving was pizza topped with french fries. It seemed to be a hit with some of the kids that were in the cafe, but I'm not sure it went over very big with our group.