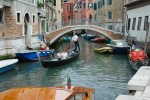 After departing the ship Aaron, Terri, and I caught an Alilaguna (water bus) from the port (Stazione Marittima) to San Marco for 6€. Once at San Marco we made our way over a few bridges and down narrow winding streets to our hotel, Hotel al Piave. The hotel was very accommodating and had no problem converting my reservation from a double to a triple and holding our luggage for us.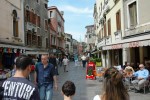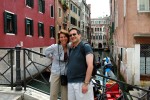 From our hotel we navigated our way through Venice to the Ghetto on the other side of Venice. Surprisingly, we only got lost a few times and were able to figure out where we went wrong and get back on course. Our walk only took about 40 minutes. Upon arriving at the Ghetto we decided to stop for lunch. We found a nice little restaurant serving all kinds of pasta dishes just across the canal from the Ghetto. Based on my experience in Rome and Florence I was very surprised that Venetian's speak so little English. My little phrase book came in handy, although we were able to get by without it just as well.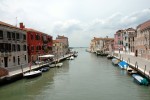 Following lunch we went back to the Ghetto, took some photos in the square known as the new ghetto, and went into the museum where we purchased a museum pass and a synagogue tour. The museum was much smaller than I expected and consisted of two rooms. One containing various silver items such as torah breast plates and pointers, the other containing textiles. Since our tour didn't start for a while Aaron and I decided to go for a little walk looking for things to photograph. There was an interesting glass shop near the museum that had a number of items I wanted to purchase, but I decided to wait until after our tour so I wouldn't have to carry them. We then walked through the ghetto and past Gam Gam's where we walked along the Canale di Cannarégio. Once it started getting close to our tour time we walked back to the museum where we started the tour.
After viewing the first synagogue which was quite small compared to other synagogues I've seen, we noticed Bill walking by. Apparently he had lost the post-cruise group who was also on a synagogue tour. We walked up the stairs to the next synagogue seeing Bill walk back and forth several times looking for his group. When the doors for the second synagogue opened, guess who we saw? The post-cruise group that Bill had been looking for. After a brief reunion we viewed the synagogue the post-cruise group had seen as well as two other synagogues. I found the tour interesting and was glad we had done it.

When we finished the tour I went back to the glass shop, but unfortunately the post-cruise group had also discovered the store and were busy buying everything in sight. Aaron and I had tickets for a 4 PM admittance to the Doge Palace and since it was already after 3 PM I didn't have time to waste waiting in a long line. Luckily after waiting in line for about 20 minutes, Debi, who was waiting in line ahead of me, offered to purchase the items I had picked out and would get them from her later.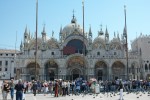 Aaron, Terri, and I then dashed across Venice back to the St. Mark's Square where I thought I had gone to the entrance of the Doge Palace. Since the sign said they didn't allow bags or cameras we gave all of that to Terri who was going to walk around St. Mark's square while we toured the palace. Unfortunately once we walked in we realized we were in the St. Mark's Basilica and not the palace. Upon realizing our mistake we turned around and went back out to find Terri who had already gone off on her walk. We then walked over to the real entrance to the Doge Palace where there was no line and bags and cameras were permitted. I was very disappointed at myself for making such a big mistake. We didn't need to rush back and with no line it would have been very easy for Terri to join us on a tour of the palace. On top of that, even though no photos were allowed in the palace itself, there were places where photos were permitted that I really would have liked to have photographed.


The palace tour was fairly interesting. Much of the palace was just very large empty rooms that were used by various branches of the government, but they did have an extensive collection of weapons and armory including some very powerfull looking crossbows. The tour also took us across the Bridge of Sighs and into the prison. The cells were very bleak with very thick walls and beds made of either wood or stone.
Once we finished the tour of the palace we met up with Terri and walked around St. Mark's Square before heading back to the hotel to get ready for diner and relax a bit. On the way to dinner we waited for a few people under the winged lion which gave me an opportunity to take a picture of St. Theodor and some more pictures of gondolas. From there we walked to the Rialto Bridge and finally back to Fondamenta Delle Cappuccine near the Ghetto where we met for diner.