This morning we did The Best of Portland tour from Portland Walking Tours. This was an excellent and very informative tour. Our first stop was Pioneer Courthouse Square where we learned a little history of Portland, how the square came to be, the courthouse itself, and about a statue named Allow Me which represents someone more from New York than someone from Portland.
From the courthouse we walked to the Standard Insurance Center we viewed the statue The Quest and learned of its controversy and some of the local nicknames for the statue. We then walked to The Portland Building where we viewed the statue of Portlandia, Portland's mascot, and learned why no one outside of Portland has ever heard of her. We also learned about a weather machine on the roof of the building across the street that displays different colors representing the current weather forecast that most locals don't know about because it's no longer easily visible due to taller buildings that have been erected around it.
We next walked a few blocks to the former Portland Public Theatre, which is now the Arlene Schnitzer Concert Hall and went into the lobby of Antoinette Hatfield Hall which is part of the Portland Center for the Performing Arts. The street between the two buildings can be closed off for special events and the posts are each topped with a fanciful figure. The lobby of Hatfield Hall is designed in such a way that as you walk in you feel like you're on stage with theater boxes wrapping around you.
As we continued the tour we passed a number of Portland's signature landmarks including a Benson Bubbler. These distinct drinking fountains were installed in 1912 by a wealthy entrepreneur named Simon Benson to keep his workers out of the saloons and bars. Some of the other progressive features of the city we noticed were electric car charging stations, plentiful bike racks, an impressive public transit system, and cobblestone sidewalks as well as the world's smallest park.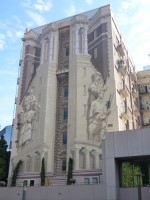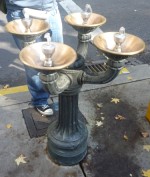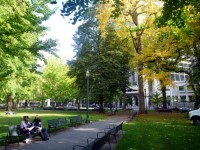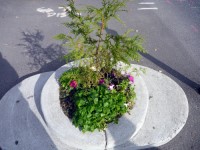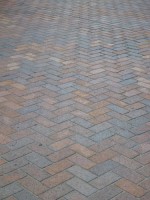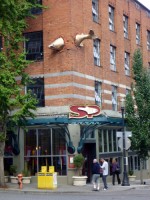 After completing the tour we headed back the the hotel and got back on the road headed north to Seattle.