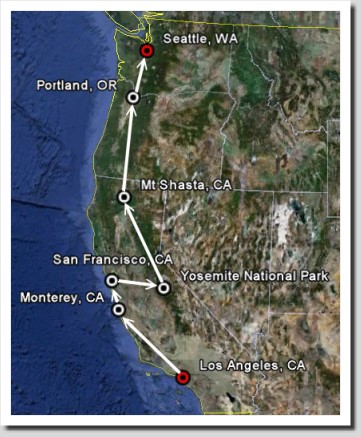 Welcome to the travelogue of my road trip up the west coast.
To view a larger version of the photos on the following pages click on the thumbnail image. There's no need to close the pop-up window each time as the window will automatically resize when you select a different photo. You will also find map icons throughout the travelogue. If you click on one of these icons an interactive map showing you the exact location will display. If you'd like to view the map on a separate page, simply click the Google logo on the map.
From October 14th to October 23rd, my friend Joel and I traveled up the west coast from Los Angeles, California to Seattle, Washington. Along the way we stopped at Monterey, San Francisco, Yosemite National Park, and Portland, Oregon.