Welcome to the travelogue of my trip to the Mediterranean.
To view a larger version of the photos on the following pages click on the thumbnail image. For this feature to work you may have to disable your pop-up blocker if you have one installed. There's no need to close the pop-up window each time as the window will automatically resize when you select a different photo.
From May 22 to May 29 I cruised the Mediterranean aboard Royal Caribbean's Splendour of the Seas with Amazing Journeys.
The Splendour of the Seas is an amazing ship. At 867 feet long it has room for over 2000 passengers with 11 decks, a rock-climbing wall, glass-walled dining rooms, a casino, two swimming pools, even an 18-hole miniature golf course.
Our ports-of-call were Marseille France, Villefranche France, Livorno Italy, Civitavecchia Italy, Naples Italy, and Barcelona Spain.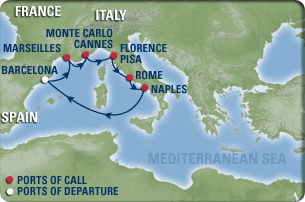 From these ports we explored Monte Carlo, Florence, Pisa, Rome, and the Amalfi coast.
The map to the left shows our course, except on the last day we passed between Corsica and Sardinia instead of south of Sardinia.