Monaco and Monte Carlo
Monaco and Monte Carlo was not what we expected. They had just hosted the Grand Prix the day before, so there were barricades and viewing boxes all over. Our tour guide told us that for the past week the people of Monte Carlo couldn't even cross the street due to all the barricades.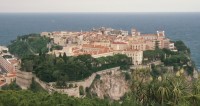 We went up to the top where the Palais du Prince is located and had some lunch. Afterwards we watched the changing of the guard.
It was very similar to the changing of the guard in London but with a little more fanfare. The view of the harbors from the top was very nice. There were many luxury yachts moored in the harbors. Unfortunately the weather wasn't as warm as predicted and few people, including myself, brought jackets. A few of the women bought shirts to keep warm.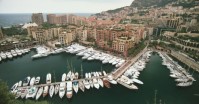 After the changing of the guard the group walked back to the bus where we went to the Casino de Monte-Carlo. Because they don't allow cameras and charge an entry fee I decided not to go in. Instead I walked around with Leah and some of the other women from the group and explored some shopping galleries and looked at all the exotic cars parked on the street. There were a large number of Ferraris and Bentleys plus a Lamborghini and a Rolls Royce convertible. All of the shops were very expensive. The only thing I found in my price range was a scoop of Häagen-Dazs. (It only tastes rich.)
After leaving the Casino area we got back on the bus and went to the Jardin Exotique de Monaco. Most of the plants there were succulents including many aloe plants in bloom. Now I know what to look forward to if my aloe plants ever get that big. We walked through the garden to the Prehistoric Anthropology Museum that contained photos of cave drawings and prehistoric human remains. It turned out that the founder of the garden was also into archeology. The reason we went to the museum was to waste time until our guide showed up to give us a tour of the cave. Unfortunately the guide never showed up, but we explored the cave anyway with several other tourists that I think were from Ireland. (Aaron thinks they were from Canada.) The tour was conducted in French, and even though I don't speak French, I was able to understand most of what he was saying. (First he apologized that his lecture was only in French. Then he explained about the formation of the cave.) As far as caves go, this one was not too exciting. It was all limestone with no color variations and the caverns were fairly ordinary.